Discover the French startup Bubble Plan, led by its founders Julien and Benoit Seligmann, through its team, its history, its figures or its achievements. Independent and growing, our young Parisian startup has been revolutionizing the too complex and inaccessible project management since 2014. allow us to evolve the products and to expand the range (2 collaborative and integrable tools to date) according to the needs of the market. Bubble Plan is a French startup, which covers much more than just project management with flexible solutions, quick to learn for management, projects, meeting follow-up ...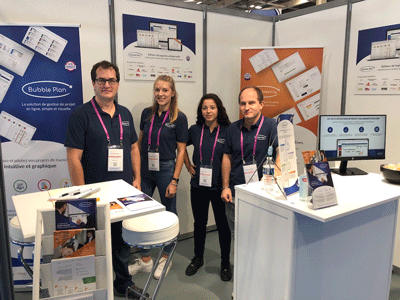 Close-knit, invested, complementary, this is the beautiful team of our startup. Committed over the months to the success of our tools, the Bubble Plan team (not all of them in this picture, Covid trade show) - technical, marketing or user relations - are determined to bring you the best solutions to your management needs
Location

Paris - France

Creation

February 2015

Speciality

Collaborative SaaS software provider, dedicated to management and productivity
Bubble Plan is now at the heart of the digital transformation of companies and communities
OUR HISTORY
Here are some key dates about the French startup Bubble Plan and its major advances.
Publisher of management tools, ne SaaS mode, it has already successfully passed many milestones including the often crucial 5-year milestone.