Manage your projects easily with Bubble Plan!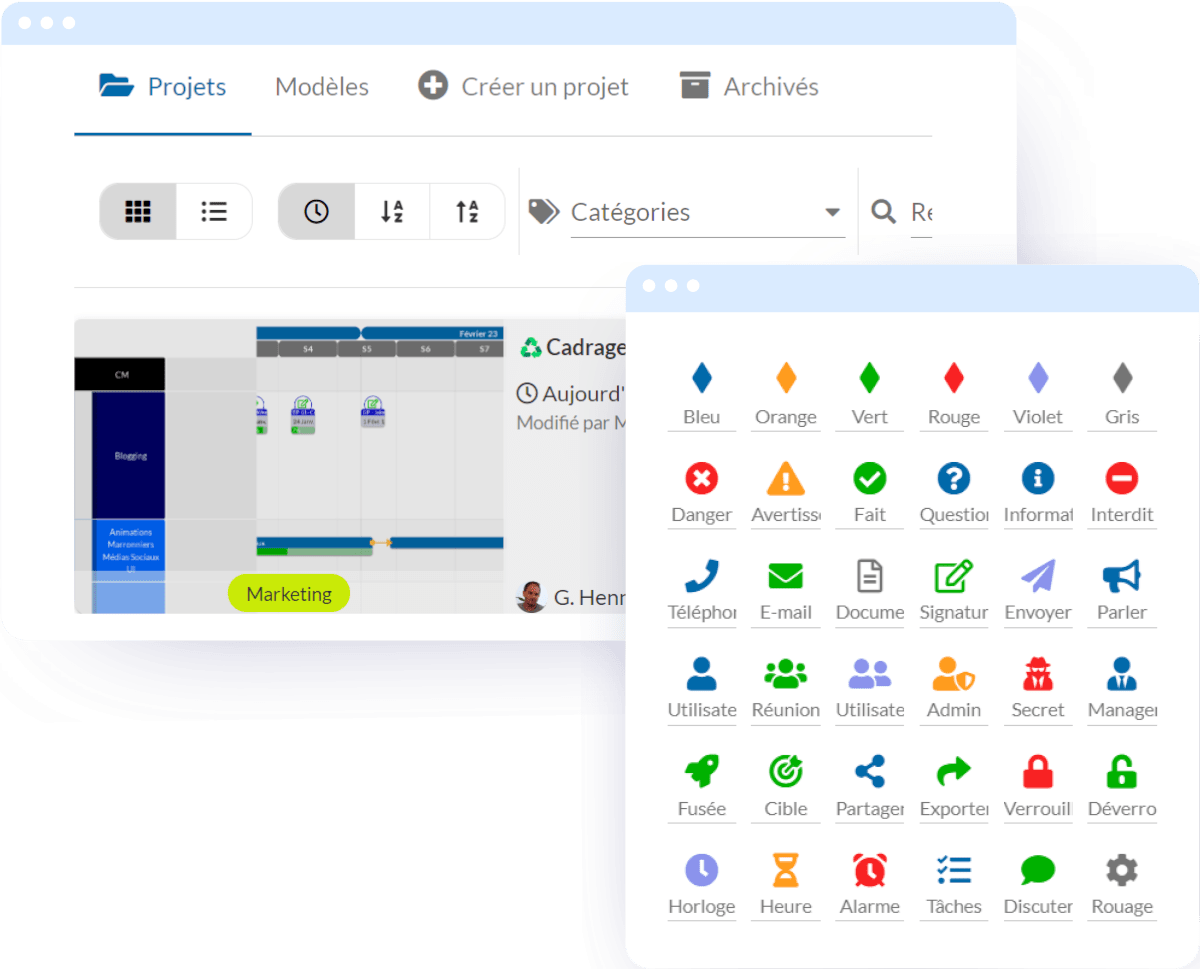 Creating clear and elegant project plannings, organizing your team's task management or sharing a visual « Gantt » chart has never been easier!
Whether you are an independent consultant, a startup or a large company, Bubble Plan is the perfect tool to help you complete all your projects. The project management software offers great accessibility and an intuitive interface to meet the needs of every professional.
The numerous features of the online collaborative project management software, from Gantt planning to dashboard monitoring, offer you all the tools for an efficient, flexible and personalized project management according to your projects.
Adapted to your business and your projects
As a collaborative project management software, Bubble Plan combines all the features of a project management tool and an online planning tool to fit all your projects.
Numerous features are continually enriching the platform Bubble Plan to allow you to manage your projects and plannings from A to Z, and always with ease.
To the planning vision, quick to draw, all in color, easy to consult and pleasant to share, our project management tool adds essential functionalities for project piloting and collaborative work to meet any business need : consulting firms, marketing and communication agencies, HR departments, IT companies, general management, operations, production, ...
What makes Bubble Plan unique
Visual
With Bubble Plan, online collaborative project management software, managers, clients and collaborators understand and track their project planning at a glance, thanks to its graphic web interface and clear exports. Planning and task management features allow for accurate visualization of project progress, while providing agile and efficient management.
Intuitive
Bubble Plan is an intuitive and easy to use project management software. With its simple and uncluttered interface, you can plan and organize your projects in just a few clicks. You don't need to be a project management expert to successfully plan effectively. You can create clear and elegant project plannings using the « drag and drop » feature, to plan your tasks with ease. You focus on planning your ideas, and the tool assists you in getting them done.
Flexible
Accessible anywhere, your project management software is equally at home in presentation roadmap mode, in project management or for team collaboration. With its many enriching features, you choose the way to steer your project that suits your need for project management, scheduling, software and planning. The multiple visualization and display options fit all uses: task management, reporting, strategic planning and more.
Scalable
We are constantly enriching the functions of Bubble Plan to always better respond to each of your projects and offer you a « tailor-made » support for the management and planning of your projects. Our offers provide you with an evolving range, to adjust your functionalities according to your mastery of the project mode and your more or less advanced needs in terms of project management, planning and scheduling. Finally, our team of developers can perform specific feature development for you, for a customized experience tailored to the way you work.
Start your FREE trial now!
Enjoy all Premium features for 14 days
No credit card required.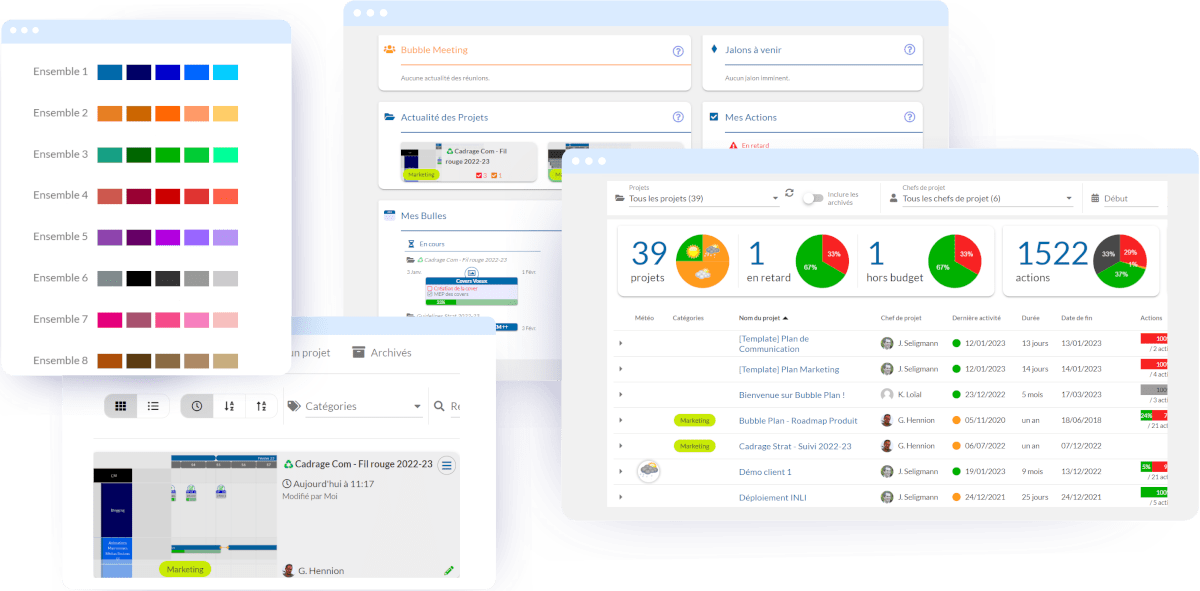 Succeed in your project management
Modeling and managing your projects has never been easier than with Bubble Plan, the easy-to-use visual project management software.
No more « white elephant » and complex software, with Bubble Plan you finally have the SaaS collaborative tool to succeed in your project management in all simplicity, for all users.
Bubble Plan makes your life easier and easily transposes the project planning, Gantt chart or not, that you have in mind.
Engage your team with intuitive and accessible project planning.
With a few clicks, you can add ideas, milestones and tasks. At a glance, you can view your entire project and follow the work of your teams.
Ultimate collaborative solution our planning software offers a centralized workspace, where task management, document sharing, resource management and dashboards are always simple, graphic and fun.
Take advantage of a constant support to fast-track your project dynamics internally
Our team of experts is here to support you from the start and throughout the evolution of your project management. We understand that each project is unique, and we're here to listen to you and recommend the features and options that are best suited to your issues.
Our scalable feature set, declined in several versions, allows you to grow your teams' project culture gradually, according to your needs and your mastery of the project mode. To succeed in all your projects!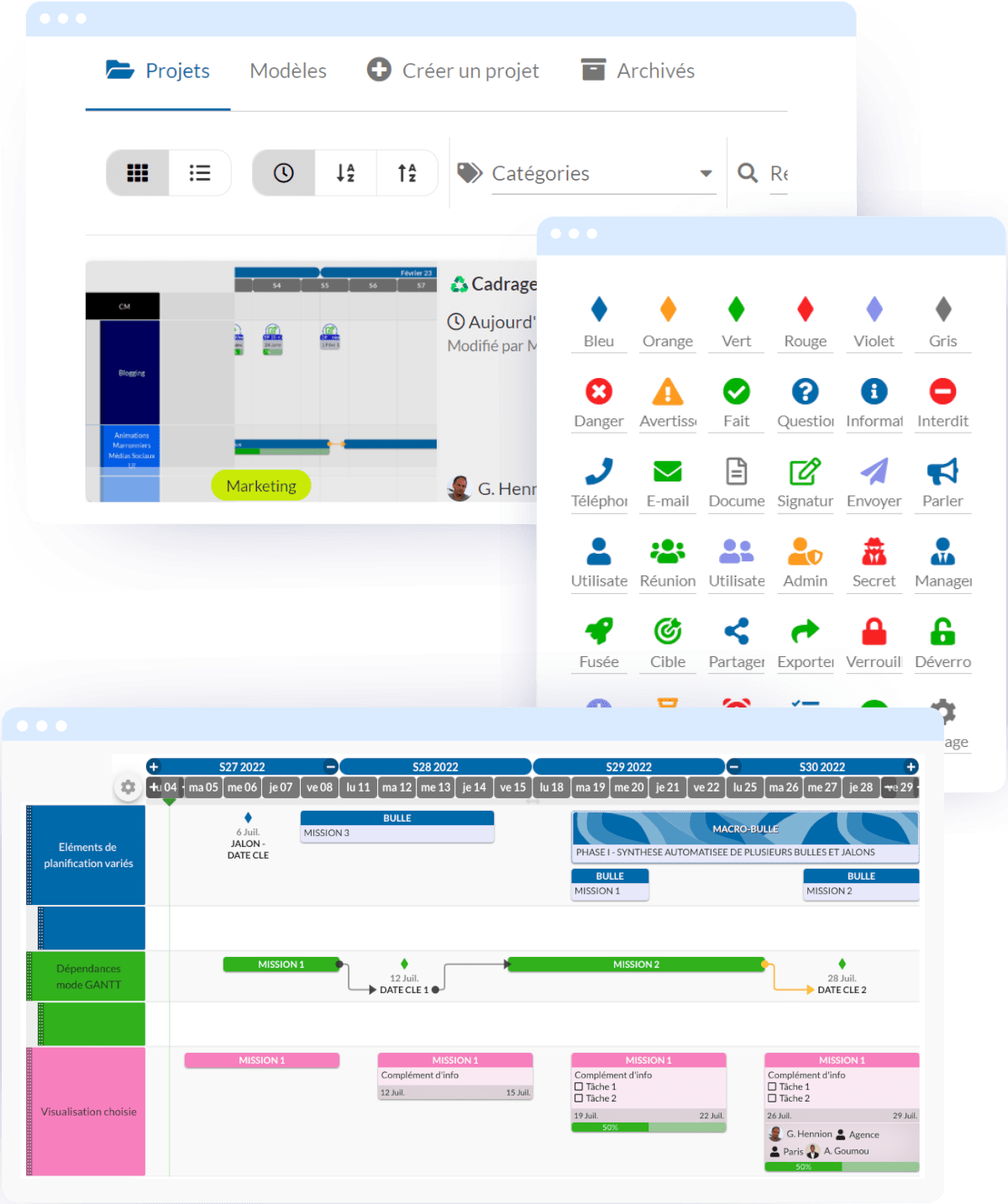 Discover the many features that Bubble Plan offers to meet the needs of each of your projects:
Whichever method you choose
Time planning, definition of objectives, resource management, task allocation, costing and monitoring of successful completion are the key elements of project management.
Whether your project is internal or external, defining and organizing clear processes are essential to ensure its success.
For effective project management, it is important to have a method - the Agile method being one of the most popular - and a committed project manager. It's also essential to have a collaborative software package that is tailored to project management, planning and your goals. Bubble Plan is a planning software that makes it easy to create projects using different methods such as Gantt planning, Agile, Scrum, Kanban, Waterfall, V-cycle, and many others.
Choose the version that fits your company's users and your team members. With its many features, Bubble Plan simplifies the management of your project and allows you to focus on the essential: the success of your project.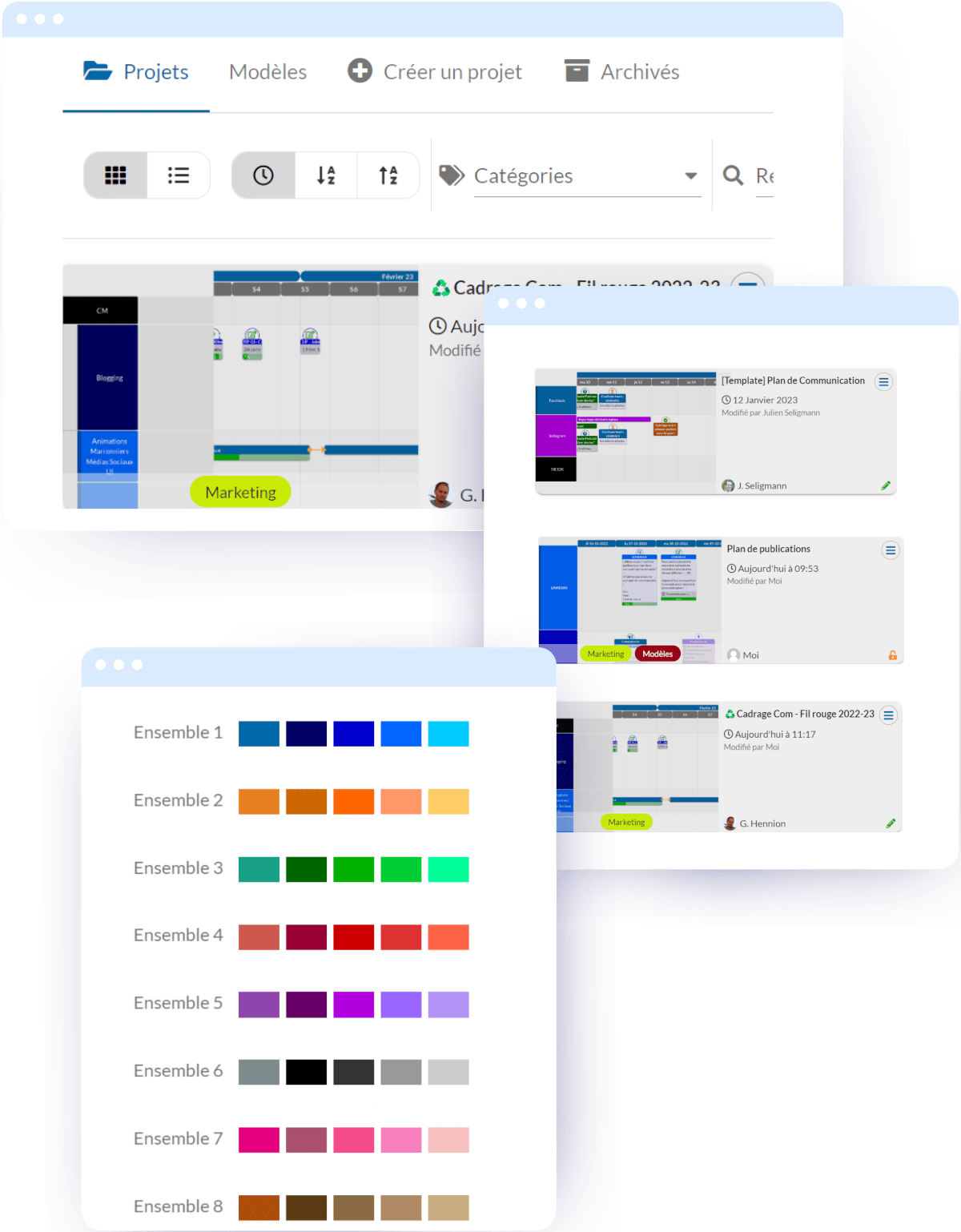 Testimonials
We didn't want a traditional, complex, overly expensive tool that uses less than 10% of the functionalities. The HR subject is not at all adapted to it. We needed a timeline, with actions and projects... And I didn't want to use Excel. It's easy and it doesn't require strong skills. Bubble Plan can be deployed to people who don't know anything about it!
Olivier Armand
SNCF - Head of the drh's office / project coordination
Bubble Plan is a very functional and versatile tool with a nice ergonomic design. Employees are more involved in their organisation and have less of a feeling of being subjected to it. A precise vision of the workload of each employee allows the implementation of adapted solutions.
Emeline Lebouteiller
Project & Education Range Manager - BIOVIVA
For me, I found what I was looking for, that is a Trello in a timeline. It's the best compromise between ergonomics and precision for a project management software.
Mathilde Delhomme
SyDEV - Project leader
Collaboration tools that focused on projects through the prism of chat were no longer appropriate. The most relevant input for us was planning. BP was the obvious choice and the benefits are undeniable. Each user can visualise his projects linked to budgets that evolve over time. The objectives of each user are identifiable in real time and, above all, measurable.
Eddy Boutouria
Marketing Manager - SAPMER
Our organization had to carry out a project to build a new headquarters. BUBBLE PLAN totally suited us in its form and in its flexibility of use. Complete and easy to use for a neophyte of this type of tools, we warmly recommend it to all those who are in search of a tool of follow-up of project.
Christophe Clerc
Director - ATMP01
We were looking for an efficient solution capable of monitoring our projects in a collaborative manner without adding another technical constraint to our employees. The deployment of the tool is thus growing. From 3 employees, then 7, it is now 4 departments of the group that benefit daily from the accessibility and benefits of Bubble Plan
Antoine Resk Diomande
Head of Corporate Communication - CEMOI
Previous
Next