Bubble Plan is the easiest personal and professional project planning software to transpose the action plan our users have in mind, onto the web.
Online project planning is done in a few clicks: simple and progressive.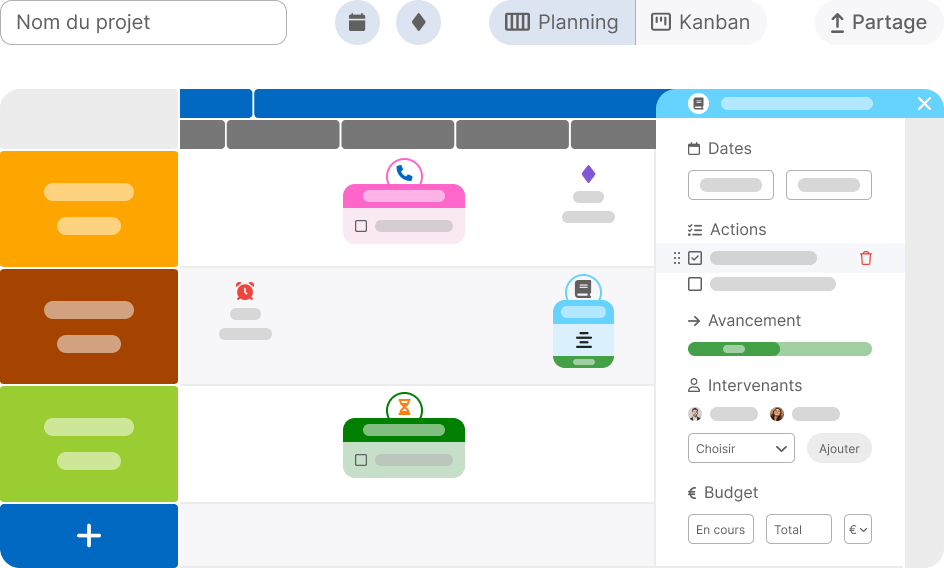 Planning with a bubble and its options
Any realization of a schedule, which seems easy, can quickly be suboptimal for project modeling. All the more so if you have a model in mind. Between the dates that are added, the multiplication of missions and milestones, as well as the setting up of timelines, it is easy to get tangled up and weave a web of information and data, at the risk of no longer find your way around and waste precious time.
This is why the collaborative and intuitive Bubble Plan interface offers you its simple and effective online planning; whether you are a student, self-employed, manager or employee!
Our collaborative project planning tool is accessible to everyone, in SaaS mode, to model, then manage activity, events and projects, in an intuitive and graphical way.
Novice in project management or experienced manager? VSE-SME, public body or large group? You'll find all the tools, services and functionalities you need for your business in this project management software with online scheduling, and immediate and immersive handling.
Our TEAM version is suitable for small teams, or for users new to project management. The BUSINESS version offers seasoned project managers more advanced features for project management and team organization. Finally, the ENTERPRISE version is tailor-made for multi-teams and the complex needs of large corporations.
When to choose an online planner for your project?
The online schedule must have for interest to coordinate your needs and deadlines, in time, in a periodic way (monthly, weekly or daily, ...). During the realization of an action plan, for example, it is essential to organize all the members of a team, around the defined objectives and deadlines.
Planning: a strategic asset for the implementation and especially the follow-up of your projects and activities.
A common mistake is to embark on your project without thinking about the external elements, and other hazards, … and especially to forget to inform your team of the progress of the project.
However, a missed appointment or a shifting phase could block your entire project!
The solution is therefore to set up an online schedule, always available, which is an integral part of successful project management: linked to a server that allows multiple users to connect, anywhere, anytime
-> tracking project dates is possible and clear to everyone.
An online schedule is useful for anyone doing multiple projects over a set period of time, including events, and want to be equipped.
For example, in the field of human resources you have to create short-term projects or events such as recruitment sessions, or even the setting up of a professional or personal event. In jobs such as editing, which require daily shifts, you also need a regularly updated online schedule. The same is true in many other professions: marketing, real estate, logistics, communication, construction sites, etc. for which planning and creating an online schedule are the basics of valuable project management.
Visual management, with vertical marker and graphic palette
A coordination tool that makes your project grow
On the Bubble Plan planning software, we offer an online planning that modernizes the standard calendars, existing on the Internet or the usual creation in Excel, to manage all your information. We offer a work surface based on three main management concepts:
Communication
You allow all the members of your team to move forward alongside you to design, prevent and plan all the future highlights of your project
Collaboration
It is by working together that you can develop a convincing project. That's why it's so important to have the right communication tools.
Centralization of data
Essential to optimize all stages of the project. You can share attachments, data, information and react to each step of the project
We are optimizing the online schedule so that it is intuitive, but above all visual for an understanding of all the new elements at a single glance added. You can personalize your online schedule to give meaning to each step. Indeed, from info to colors, you can customize everything!
Moreover, the person who creates the online schedule, or the «project manager», is not the only key player in the project or event. As such, all authorized collaborators are entitled to modify it as they see fit. This encourages collaborative working, making it possible to save time and involvement. In addition, all team managers should be equipped with a tool dedicated to organizing their resources.
Bubble plan, online planning software and much more
Save time and increase productivity, immediately and without complexity, for any type of "project": roadmap, business action plan, operational planning, task management, collaborative work, strategic planning, team organization...
Bubble Plan's online schedules can be built in a few clicks, can be infinitely modified and offer a clear, graphic and modular view of your projects or your activity.
In addition to online planning, find all the tools, features and services to plan and manage your professional or personal project efficiently.
Imagine
- Graphic and visual modelisation
- Immediate creation with drag & drop
- Integration of milestones, phases, tasks, ...
- Creating calendar templates
Planify
- Simple « gantt » planning
- Multi project structure
- Management of consolidated projects / sub-projects
Organize
- Todo lists / Checklists
- Task assignation and access
- Access level management
Show
- Multi-levels visual reporting
- Export clear and graphical
- Read-only accesses
Follow
- Task followup
- Dashboards
- Ressources load management
Collaborate
- Documents storage and share
- Chat and comments
- Alerts and notifications
Services to assist you and support your deployment
Be guided
- Support and customer service (chat / email / phone)
- FAQ
- formation
Evolve
- Advanced features (budget, workload...)
- Custom development service
- Frequent upgrades
Start your FREE trial now!
14-day free trial. No credit card required.
Project planning and management in pictures
Bubble Plan is the most accessible, visual and complete project, event and activity management software, online planning oriented.
Because a good diagram is better than a long speech, discover for yourself in pictures: online planning, visual management and dashboards for management (Kanban, Tasks, Resources, Portfolio, ...).
List of active projects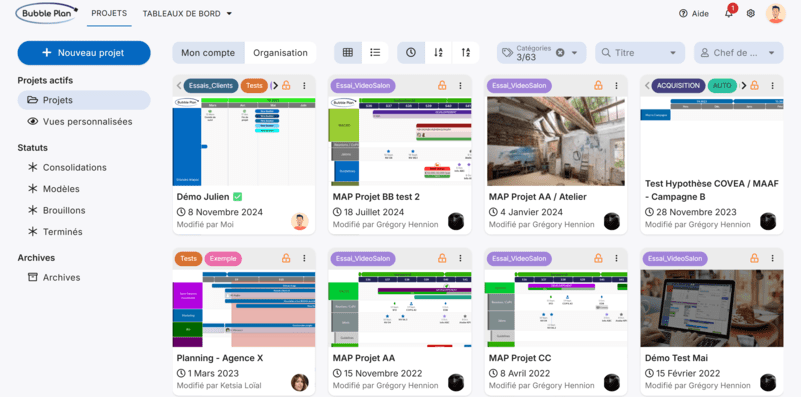 Dashboard Personal overview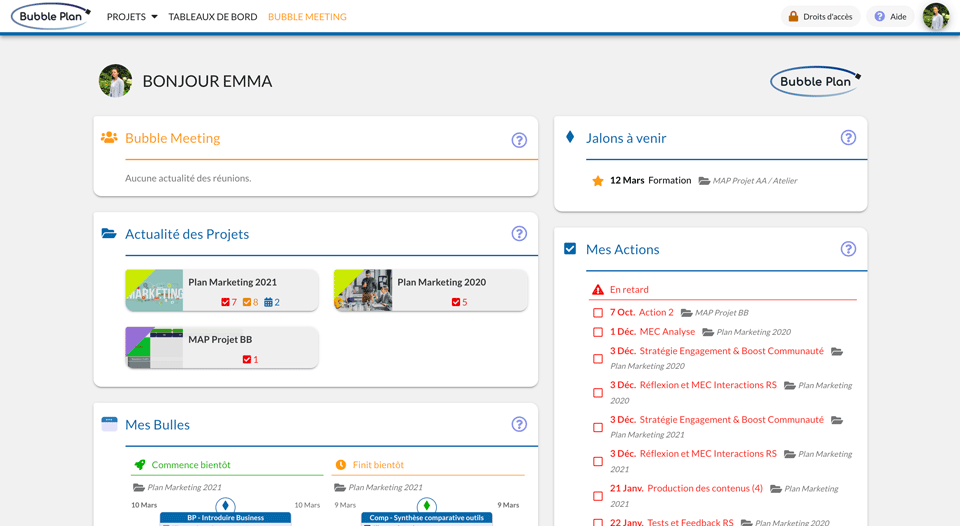 Dashboard Progress monitoring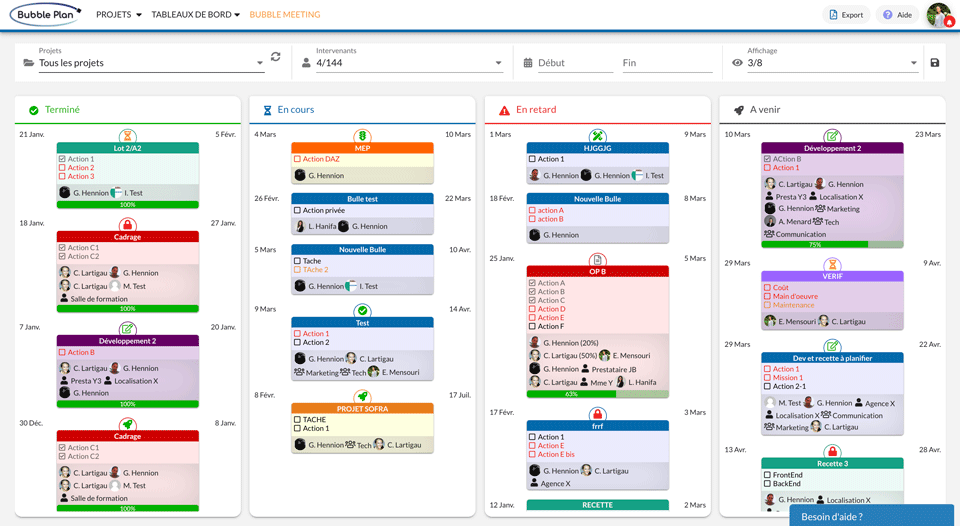 Project portfolio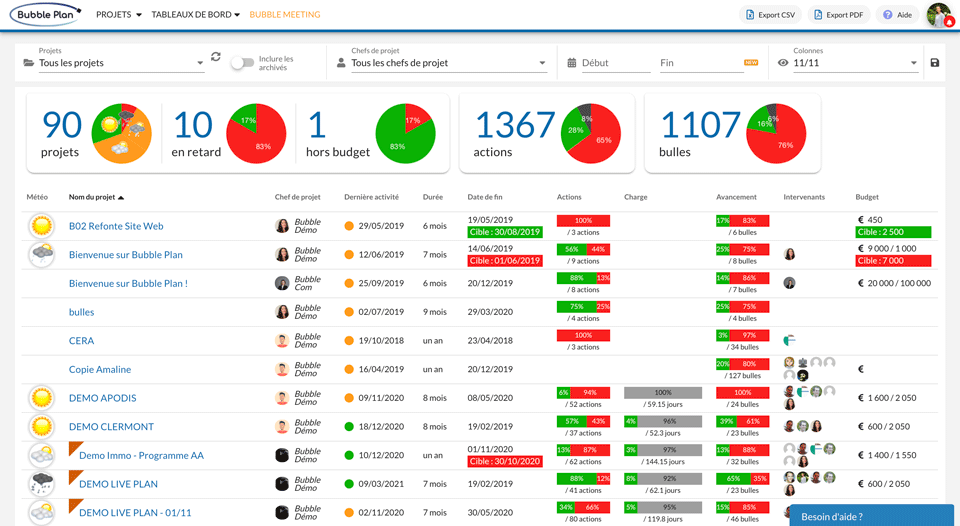 Previous
Next
Synergy of projects / meetings
With Bubble Meeting, our collaborative software dedicated to management of your work meetings, you can optimize your project or activity management.
Transform your meeting milestones with the interactive follow-up, orchestrate your meetings directly from Bubble Plan and its online schedule, and change your habits for framed, dynamic and committed meetings.
Time saving and productivity
Participative engagement
Complete management in 4 key phases
Dynamic and intuitive animation
Continuous traceability of decisions