Comprehensive project planning and management tool, Bubble Plan, While it is intended to be simple, visual and accessible to all, it also supports the most demanding users and project managers with advanced functions. Many advanced options are available in the TEAM version. However, the BUSINESS version embeds for the most advanced project teams, expert features; on team management, workloads or specific setups.
Track and orchestrate all your teams directly
The BUSINESS version of Bubble Plan opens the vision of team and group management on our project management tool. Integrate your collaborators, on one or more teams. Assign your projects to these teams or anticipate their workload.
Manage your workloads in an advanced way
Anticipate with the BUSINESS version the direct impact of your changes, your assignments, on the load of employees and team management. An indicator of potential load presents the risks of tension, in colour, of your users. A time load frieze models the updated load, over the coming period.Your action managers are immediately identified according to the load with a visual indicator.
Manage your consolidated multi-project views more accurately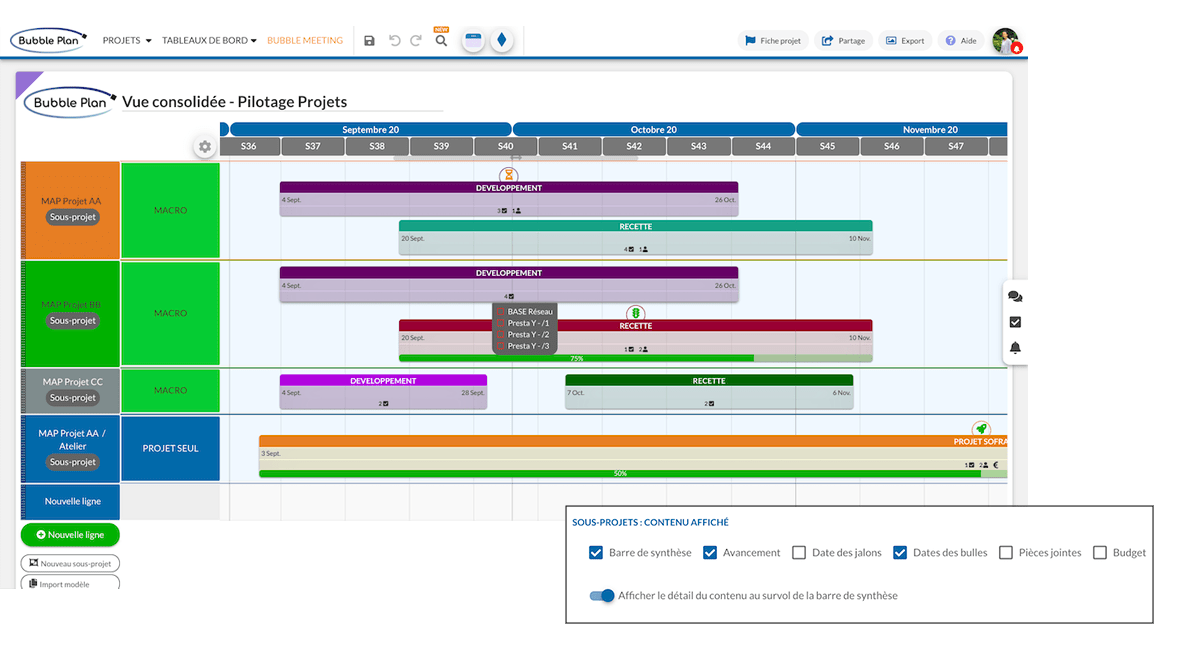 In the BUSINESS version, an expert feature gives you control over the content available in your sub-projects. Gain efficiency by accessing, on mouse-over, the details of your summary bar. Define the information to be displayed on your sub-projects for an optimised supervision.Expert uses, perfect for an overall vision adapted to the expectations of your managers and directions.